St. Brigid's S.G.N.S. community expects that through our Student Council we might give our pupils a more active role in the organisation of our school and ensure they are listened to and respected for their ideas and concerns.
The main role of a Student Council is "to promote the interests of the school and the involvement of students in the affairs of the school, in co-operation with the board, parents and teachers".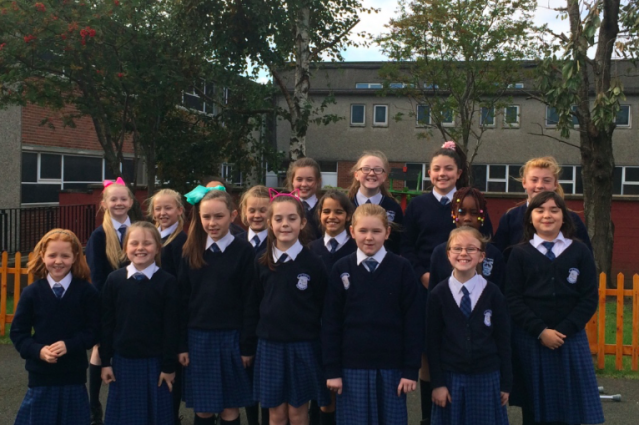 Our Student Council by Jodie and Katie (Room 19)
Things we do are:
We find upgrades for our school.
We make sure the younger ones are o.k. and have people to play with.
If people have ideas we bring them to our principal and try to make their dreams come true.
Things that have changed already are:
We changed our games gear.
We changed our uniform.
We are in the process of changing our desks and Breakfast Club/Cookery Room.
We now have our 5th and 6th Class helping out playing with the kids in our Outreach Unit.
We have a Friendship Stop for our small yard if the younger kids are sad or lonely.
We are still finding things for our school to improve on in the future! (November 2016)
The role of the Student Council is:
To meet on a regular basis
To learn about decision-making, how to hold meetings, understand different roles of Officers, communication skills, Minutes, Agenda
To open communication between pupils, management, staff and parents
To liaise with their classmates – get feedback about the school to bring back to Management
To promote an environment conducive to educational and personal development
To promote friendship and respect among pupils
To represent the views of the students on matters of general concern to them
Meet with the Principal to discuss matters that are important to pupils
To organise activities and events for the school
To have input into decisions made and certain school policies– e.g. Anti-Bullying Policy, classroom resources, etc.
The Council may have an important role to play in the organisation of:
Assemblies
Talent Shows
Special occasions e.g.organising special events, etc.
Special presentations.
Two pupils represented the school at the annual meeting of Comhairle na nÓg on 16th October 2014. They got the opportunity to present the views of St. Brigid's S.G.N.S., while meeting with pupils of both primary and secondary schools.
Comhairle na nÓg by D:
I got invited to the Dublin City Comhairle na nÓg with S. We went by car all the way to Croke Park. It was my first time there. When we got there, we had lunch and then went into the hall. We sat at Table 15 and talked about what we would be doing. We played games after that and then got some food boxes. Later we started on our topic of littering…
Comhairle na nÓg is about the difference a young person can make. The Council brings people from Dublin together to talk about things we can change about it. It helps to make Dublin City a better place. So if you want to be a member, log onto www.dublin.ie/comhairle
Note: You have to be between the ages of twelve and seventeen.
Our two pupils were elected onto the Council. Find out more about Comhairle na nÓg (The Youth Council) here on the Council's website: