"We do not inherit the earth from our ancestors, we borrow it from our children."
WE'RE WORKING ON OUR 7TH FLAG FOR GLOBAL CITIZENSHIP: ENERGY!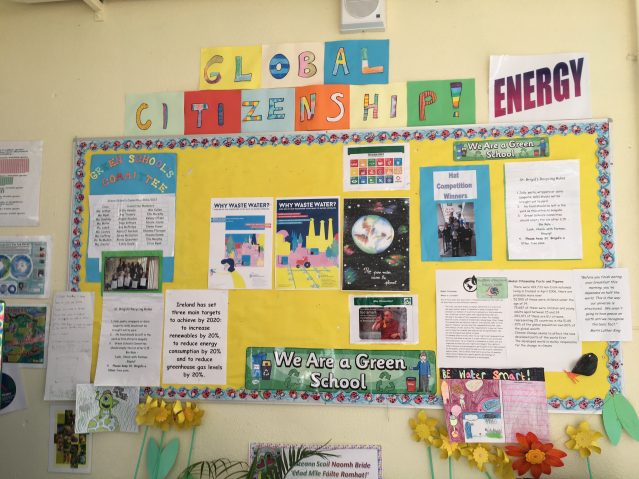 Have you heard of the Green Schools Programme, or the Green Homes Project? These programmes, together with the National Spring Clean, Clean Coast and Blue Flag projects can really make a big difference to the environment.
St. Brigid's SNS have been working on the Green Flag School's Programme for the last eleven years.
Last year we were awarded our 6th flag for Global Citizenship: LITTER & WASTE!
What are the flags about?
Our first green flag was for reducing
LITTER AND WASTE
By thinking about the impact we are having on the environment and changing our actions accordingly we can play an important part in promoting sustainable development (i.e. "meeting the needs of the present without compromising the needs of the future"). Reducing the amount of waste we produce by re-using, repairing, composting, recycling and, most importantly, preventing waste in the first place can help to protect both our country and our planet for future generations.
Our second green flag was for
ENERGY
Educational, environmental and financial pressures are highlighting the importance of having a single whole-school policy for energy.
Here are some of St. Brigid's 'Energy Saving Tips'
Close the door when you leave or enter a room
Turn off your lights when you are not in the room
No appliances left on Stand-by over night
Turn your thermostat down
Our third flag was for
WATER
Saving water is not just about saving money. Water is an important resource and a sufficient supply of clean water is essential to the health of both people and the environment. The raw material may appear to be plentiful, but worldwide and even in parts of Ireland (particularly at certain times of year), it is an increasingly scarce resource.
St. Brigid's Tips to Save Water:
Don't let the tap run
Be a leaky tap detective

Leaky taps waste water, so if you hear one in your house or school, tell someone – and make sure it gets fixed.

Don't run the tap while brushing!
Use your head – use a bucket

A running hose uses 500 litres of water in an hour. Next time you're washing the family car try using a bucket and sponge instead of a hose. It'll be just as clean and more fun too.

Don't be mean if your clothes aren't clean!
Use a basin to wash your fruit and vegetables
Don't abuse it – re-use it
Spread the word
Our fourth green flag was for
TRAVEL
By promoting sustainable transport modes (walking, cycling, car pooling or public transport) we can reduce their impact on the environment as well as improve pupils' safety, health and fitness. The journey to school is an ideal way for children to take part in regular physical activity, to interact with their peers, and to develop the road sense children need as pedestrians and cyclists. Alternative modes of transport also improve children's alertness, walking, cycling or using public transport increases pupils' concentration levels in class. The schools will also lessen their overall impact on the environment, by reducing emissions and pollution.
We were awarded our fifth flag for
BIODIVERSITY

in May 2014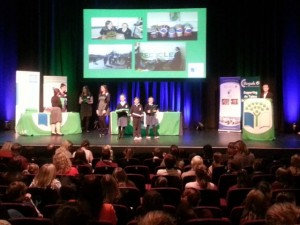 Ms. Cooney went to collect our Fifth Green Flag at an Awards Ceremony, with three pupils from our Green Schools' Committee, on May 22nd 2014. They had a most enjoyable time, after all their hard work. The rest of the Green Schools' Committee also had a little celebration that week.
As luck would have it, one of St. Brigid's past-pupils, Shannen O'Brien, is involved in a Biodiversity Project this summer. While studying Science in Trinity College, Shannen is taking part in an Expedition to South Africa, where she will undertake vital conservation work for Operation Wallacea and the local community. Shannen spoke to a number of our classes about the project and our pupils raised €100 to help fund her work. It was such a treat to have Shannen raise the flag on May 29th, with the help of the entire school!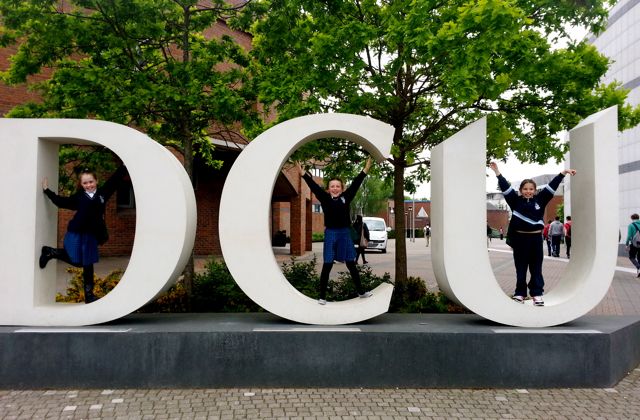 You can join up with the rest of the Green Homes community on www.greenhomes.ie. Here you will find out lots more information on the project and great tips on how to keep your home environmentally friendly and energy efficient.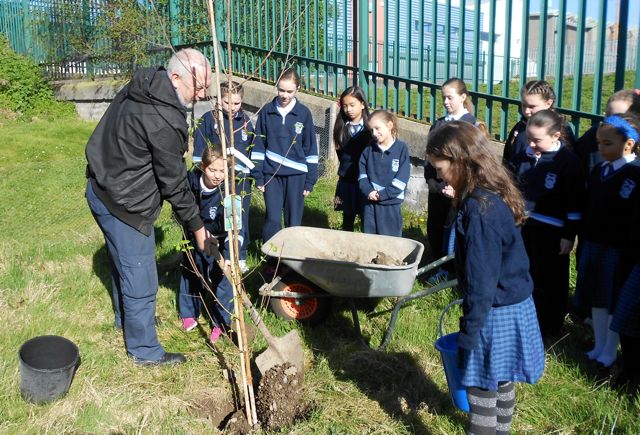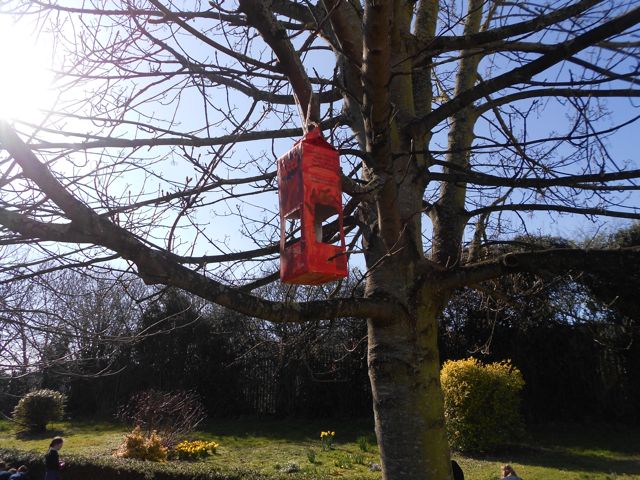 REMEMBER OUR SLOGANS FOR BIODIVERSITY:
Truth be told, biodiversity is worth more than gold.
2, 4, 6, 8. It's biodiversity we appreciate.
Don't let species go extinct; in this world we are all linked.
We also won a Sports Activity Pack for Recycling in the summer of 2014.
We were awarded our sixth flag for
GLOBAL CITIZENSHIP

in May 2016.

This site has a huge number of activities in all subject areas:
Click on Green Schools
---
Litter and Waste by Shauna Brannigan
Litter is always caused by people. It is waste in the wrong place which ruins the appearance of our towns and countryside. Litter has many forms and many sources, from sweet wrappers thrown on the street to a dumped bag of rubbish. Authorities spend millions of Euros every year on cleaning the streets of Ireland.
Household and commercial waste production in Ireland has increased dramatically in the last twenty years. Landfills all around the country are under severe pressure, shileour non-renewable resources are being exhausted at alarming rates. The amount of waste produced has increased over the last decade to about three million tonnes (3,000,000 tonnes).
We are trying to change the way people think about litter and waste in our area.
---
Global Citizenship by Saoirse Salveta
Ireland
There were 419,733 non Irish nationals living in Ireland in April 2006
52,500 of these were children under the age of 14.
75,687 of these were children and young adults.
28,347 of these were E.U. citizens.
The World
20% of the global population own 80% of the global wealth.
Climate change seems to affect the less developed parts of the world first.
The developed world is mainly responsible for the change in the climate.
---
St. Brigid's Recycled Hat Competition
Congratulations girls. It was the hardest competition to judge in St. Brigid's to date!
St. Brigid's Big Travel Challenge
The Green-Schools Travel Competition took place in February. We walked to school or remembered to 'Park & Stride' to school for ten days, from the 10th to 25th of February 2016. Schools all over Ireland took part. We took on this challenge of achieving a measurable increase in a sustainable mode of travel; walking ( Park & Stride).
Well Done St. Brigid's!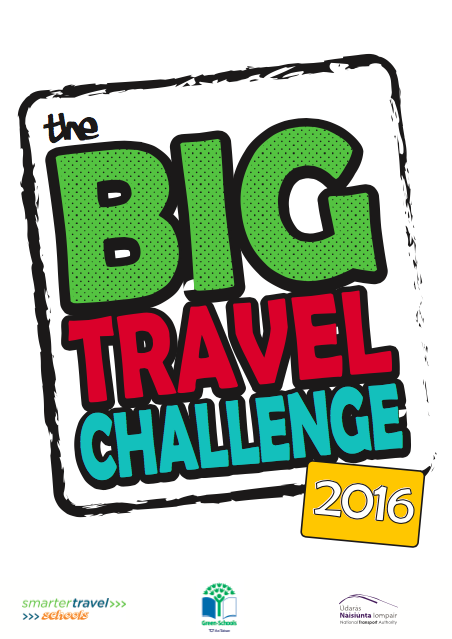 FINALLY, THE 6TH GREEN FLAG!!
We raised our 6th Green Flag on Monday, 20th June, at 11.00 a.m!! Ms. Cooney and three Green Schools' Committee members collected the flag at a ceremony in the Helix on 24th May 2016. Thanks to all of the school community for getting behind our topic of Global Citizenship: Litter and Waste. Finally, after organising everybody behind the scenes for the last five flags, Ms. Cooney gets to raise this one herself!!