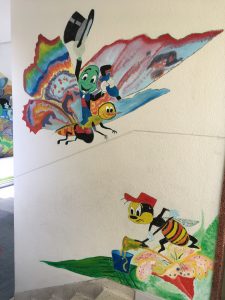 Undoubtedly the greatest asset to St. Brigid's over the years has been the commitment of its school team, whose combined care, compassion and concern for the childrens' intellectual, physical and spiritual development is a source of joy and inspiration for all.
The dedicated staff members of St. Brigid's aspire to enable each pupil to achieve their full potential in a safe, caring and happy learning environment and an atmosphere of dignity and respect. The school is managed by a Board of Management, under the patronage of the Catholic Archbishop of Dublin. St. Brigid's is funded by the Department of Education and Skills and follows the curriculum as prescribed by the D.E.S. and adapted for use in our school. This funding is also supplemented by fundraising by a committed Parents' Committee and the School Staff. St. Brigid's School is designated DEIS Band 1 status.
We aim to provide a well-rounded education, catering for multiple intelligences, different needs and learning styles.
We worked on the area of Problem-Solving in Numeracy as our first area for school improvement in our School Improvement Plan, with added time and resources devoted to its implementation. The second area of improvement chosen was Literacy, with particular emphasis placed on Oral Language. Our S.I.P. (School Improvement Plan) is constantly being updated, to allow us to concentrate best on the pupils' needs .
St. Brigid's has a well-stocked and maintained Library.
We also have a dedicated Computer Room. Computer literacy and the use of ICT are promoted in all classes.
Considerable reflection and development have been put into teaching how to live sustainably over the past number of years. After a huge effort from everyone in school, we have just received our sixth flag for Global Citizenship: Litter and Waste.
We also place particular emphasis on Science and have achieved the Discover Primary Science and Maths Award annually for a considerable number of years, and also take part in the Intel Mini-Scientist Competition.
We emphasise the mental wellbeing of pupils, through positive affirmation and building skills of self-confidence. Most of our teaching staff have been trained in and implement the Friends For Life programme, a social skills and resilience building programme, recognised by the WHO, which is also an effective means to for primary school children to deal with anxiety.
We also stress the physical wellbeing of all pupils and opportunities are provided for them to be physically active whenever possible, with P.E., swimming, cycling skills and basketball made available. This year, we have been fortunate to include GAA Gaelic football skills and cricket skills. Our Third Classes have been involved in the DCU/ University of Ulster Sport for Life Programme. We have also organised classes under the HSE initiative 'Sport for Girls', funded by the Sports Council. This year we have applied for our Active Flag.
Our choir of Fifth and Sixth Class pupils participated in Peace Proms 2014 in Citywest and in 2015 and 2016 in the RDS. This year we hope to perform in the RDS, Ballsbridge in February. All classes are also involved in the annual Christmas Concerts. We also encourage recitals and performances as part of our assemblies and at particular times of the year, e.g. Seachtain na Gaeilge, Concerts, etc.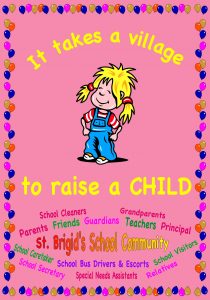 We are situated in a very supportive local community, with many of the children in the school being the third generation educated here. The school motto "Together let's live for today and learn for tomorrow" reflects both an ethos of respect for each other and a culture of learning, objectives which are cherished in St. Brigid's.
While promoting integration with mainstream classes, we also have Learning Support / Resource teachers. International pupils whose first language is not English are further supported by the learning support teachers. Parents' educational and developmental needs are catered for by classes organised by local agencies and our Home School Community Liaison Co-ordinator.
Our School Secretary takes care of administration and reception duties. Our Caretaker cares for our grounds and building.
Many of our pupils are prepared for the Sacraments of Communion and Confirmation in co-operation with parents/guardians, parish clergy and the parish co-ordinator. Our school chaplain is Father Éamann Cahill, who is also the Parish Priest in the Church of the Annunciation, Finglas West, in whose parish our school is situated. Our parish coordinator is John Graham. We encourage respect and inclusion and cater for pupils of many religions and none.
The Homework Club has become a regular feature of extra curricular provision and is supported by S.C.P. Where After-School activities are organised, e.g. basketball, there is no charge. Participants are expected to attend all sessions or to provide reasonable excuses.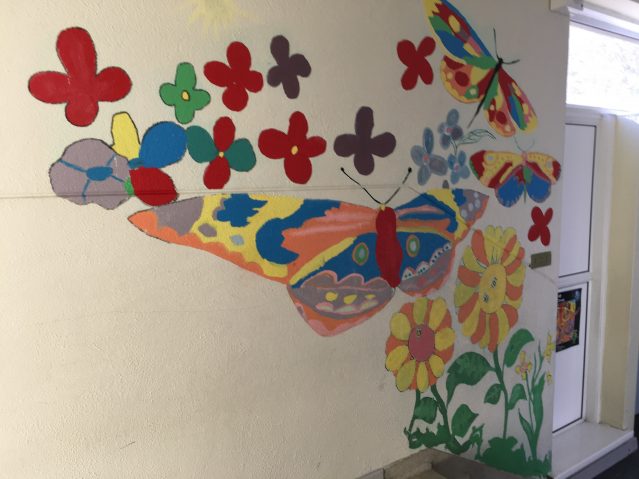 Parents/Guardians are seen as an integral part of St. Brigid's School Community and are encouraged to become actively involved in all aspects of the school such as planning and policy making, shared reading, Maths for Fun, Literacy for Fun, etc. Parents and Guardians are also welcome to participate in class-work and activities after consultation with class teachers. Opportunities for further education of parents and guardians are provided by our Home School Community Liaison Co-ordinator.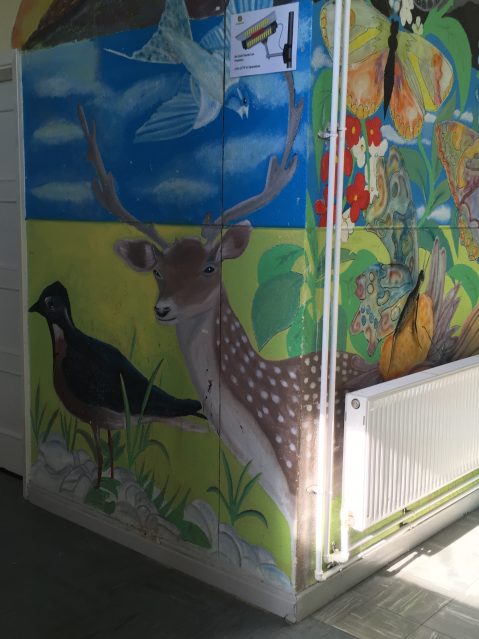 St. Brigid's has established links with many agencies for the benefit of the pupils. Among them are: Erin's Isle G.A.A. Club, which provides coaches who work on the skills of camogie and football at certain times of year; The School Completion Programme provides therapies and homework club supervisors; Volunteers organise breakfast and assist in the running of the library and organising the annual raffles, Sales of Work and Book Fair; Glanmore Foods provide lunch to our pupils and organise trips around their factory; Our local youth club has placed its facilities at our disposal; Dublin Corporation Parks Department has been a strong supporter of our environmental efforts; local shops and banks provide some items for the Sale of Work, Fun Day and Raffles. Finglas Credit Union organise art and general knowledge competitions; Dublin Bus fund an art competition and organise free trips; Dublin Fire Brigade organise a writing competition and tours of the Fire Stations.